Our Competitive Team Options

Firecrackers & Pre-Team
Firecrackers ages 4-6 (Glastonbury only), Pre-Team ages 6-8
Girls in these select groups will be working Levels 1 – 3 of the USA Gymnastics system. They attend two days a week. These program provides the opportunity for gymnasts to acquire skills necessary to compete as a future Level 3 while working on physical and mental strength, as well as flexibility, discipline, and work ethic. Firecracker and Pre-Team invitation letters will be sent to those students we feel belong in the program.

If you feel your child fits this group, please inquire at the front desk.
Top L to R (Pre-Team): Riley-Ann Fox, Emily Lagana, Chloey Kingston, Coach Victoria, Cameron Place, Madisyn Aurigemma, Madeline Meyer, Isabella Herrick (not pictured)
Bottom L to R (Firecrackers): Kylie Bigelow, Serenity Garrison, Rachel Curran, Catherine Gionfriddo, Catherine Thatford, Noa Taback, Hadley Jost (not pictured)
Competitive Team
USAG Junior Olympic Levels 3-10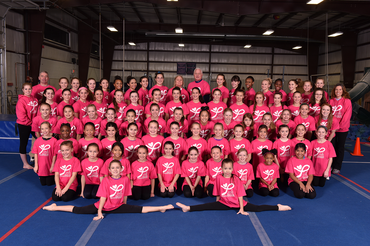 Our competitive team program, in both Newington and Glastonbury, is one of the highest rated on the East Coast. Our head coach, Maureen Chagnon was nominated 2011 coach of the year and 2013 and 2014 Club of the Year. Members of our girls' team have competed across the United States as well as internationally to Puerto Rico, Mexico and the Bahamas, and several of our girls have gone to college on full scholarships for gymnastics. We are very proud of all our gymnasts!


We offer Level 3 through Level 10 training for girls interested in competitive gymnastics. Call the office for tryout times.
Xcel Team
Bronze, Silver, Gold, Platinum & Diamond Levels
Our Xcel Team is designed to offer a broad-based, affordable competitive experience outside the traditional Junior Olympic program. This program gives an opportunity for athletes not previously involved with USA Gymnastics to enter a competitive program. It is also for athletes who have competed in the USA Gymnastics Junior Olympic program at the compulsory levels or have qualified up to Level 6 and would like to experience a basic optional program.

Please call the office for more information on this program.